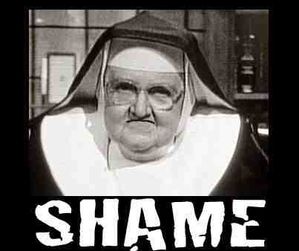 As a Belgian I should be happy to see my people leaving the catholic church in huge numbers but that awaken of reason is mainly due to horrors committed on children as young as 2 years old. A heavy price indeed. The South speaking French (where I come from) has never been keen on the clergy and now the North speaking Flemish have joined the exodus.
(http://www.globalpost.com/dispatch/benelux/100910/catholic-church-belgium-sexual-abuse-priests)
The church set up the Adriaenssen commission long before the scandal and had only a few cases to investigate but after the confession of Roger Vangheluwe, bishop of Bruges, everything changed and 475 cases (13 suicides amongst them) came to the knowledge of the commission and the general public. The bishop abused his own nephew for 13 years. The victim; now 42 years old taped a conversation with the archbishop Godfried Danneels where the archbishop is asking the victim "not to drag his uncle through the mud". (http://www.reuters.com/article/idUSTRE67S11920100829) The attempt to cover up the rapes shocked the whole country.
In June the police raided the office of the church, the home of the now retired archbishop Danneels and the office of the Adriaenssen commission. Documents and computers were seized, 9 bishops were detained for questioning and they even drilled holes into two tombs, inserting a camera to search for hidden document. In September the raid was ruled illegal but after a legal battle a court judgement cancelled that ruling. (http://www.huffingtonpost.com/wayne-besen/belgiums-raid-on-catholic_b_630678.html)
Now the Adriaenssen commission has given an damaging report of the church (http://www.bbc.co.uk/news/world-europe-11260290) and in October the parliament created a special commission composed of 13 of its members. They are investigating the cover up, the way the church is working and they are having a new look at the separation of church and state. The priests and the teachers in catholic schools are civil servants and paid by the government, some officials are now demanding to stop this financial advantage. It would be the last nail in the coffin which would certainly make Belgium the first country to get rid off the catholic pestilence.
P.S. The last sad story that I read. Between 1965 and 1970 a 5 years old boy was abused by 2 nuns, they used his hands to masturbate and he had to practice oral sex. Sometimes sister Germaine or sister Cecil (superior mother also nickname "aunty Cecil") used him for more than 2 hours even sleeping in their bed. (http://www.lameuse.be/actualite/faits_divers/2011-01-04/a-5-ans-je-devais-satisfaire-sexuellement-les-nonnes-836337.shtml). (The link is in French but you can easily translate.)