They will call me anti-catholic.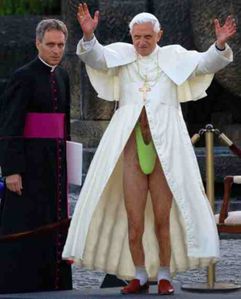 I found this in a book unknow of the catholics called the "holy bible"where their "savior" made a number of statements about money and wealth . For example:
Matthew 6:19
Do not lay up for yourselves treasures on earth, where moth and rust destroy and where thieves break in and steal; but lay up for yourselves treasures in heaven, where neither moth nor rust destroys and where thieves do not break in and steal. For where your treasure is, there your heart will be also.
Luke 14:33
Any of you who does not give up everything he has cannot be my disciple.
Matthew 6:24
No one can serve two masters; for either he will hate the one and love the other, or else he will be loyal to the one and despise the other. You cannot serve God and Money.
Matthew 19:21-24
Jesus answered, "If you want to be perfect, go, sell your possessions and give to the poor, and you will have treasure in heaven. Then come, follow me." When the young man heard this, he went away sad, because he had great wealth. Then Jesus said to his disciples, "I tell you the truth, it is hard for a rich man to enter the kingdom of heaven. Again I tell you, it is easier for a camel to go through the eye of a needle than for a rich man to enter the kingdom of God."
So I was surprised when one of my friend email me the following informations that I verified.
In 2005, MSNBC reported that the Roman Catholic Church owned more real estate globally than any other organization or individual on earth. Interestingly, a surprising amount of this land does not produce income for the church. Gabriel Kahn, a Rome Correspondent for the Wall Street Journal, told MSNBC that the church's land assets "are not liquid and they can't be put to use for the Catholic Church in the way they could be for, say, a corporation." But just five years earlier, the church's own financial statements told a different story. In 2001, an official report stated that the church's real estate activities in fiscal year 2000 produced $81.7 billion in revenue on $51.8 billion in expenses: a nearly $30 billion profit. Outside of real estate, MSNBC suggests that the Catholic church maintains a portfolio of conservative investments. In 2006, the Boston Globe revealed that the church turned a profit of roughly $55 million on a portfolio heavily concentrated in government bonds. The Vatican's TV and publishing operations, too, were said to have produced an unspecified surplus. Of course, the bulk of the Catholic Church's yearly income continues to come in the form of donations. The Boston Globe found that "contributions from worldwide dioceses" totaled $92.9 million in 2005, while individual donations made directly to the Pope neared $60 million. In recent years, the Vatican has suffered from having a portfolio biased toward dollar-denominated investments. The UK's Guardian found that in 2008 the church suffered its first loss in four years, owing to the decline of the dollar relative to the stronger Euro.
Of course everybody know that the catholic establishment is disgustingly rich and i was not sarcastic when i said that catholics did not read the bible. For the few who know the bible, it would mean that they have no respect for the teaching of jesus christ and would demonstrate that catholicism is a cult and it is the cult of a man glittering in gold when people are starving in countries where their church is powerfull and feared. There is three words to describe that papal cult; hypocrisy, ignorance, and greed. They will call me anti-catholic and I will wear it as a badge of honor. Catholic don't even live their faith in accordance of the book of their gods.